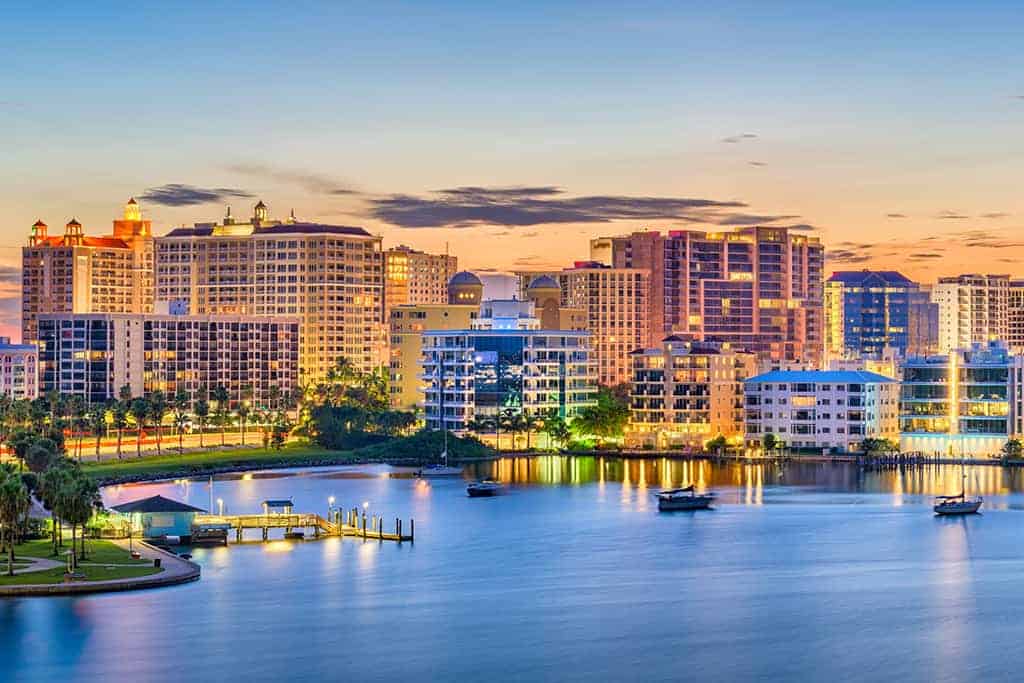 Downtown Sarasota Overview
| | |
| --- | --- |
| Location: | Downtown Sarasota, FL. |
| # of Condominiums: | Over 75 |
| | |
| | |
---
Downtown Condominiums in Sarasota, FL.
Sarasota downtown condos are one of the most frequent buyer searches we are hired to perform. It is no wonder why people are so attracted to the Sarasota downtown condo market. Sarasota is rated as one of the top 10 small cities in the USA, and U.S News & World Report recently reported Sarasota as a top 10 city for retirees! Sarasota downtown condo living is so popular due to the wide array of fine arts and theater, exquisite waterfront views of Sarasota Bay, and dozens of fine dining restaurant choices! Sarasota actually has more highly rated Zagat restaurants in a 20-mile radius of Sarasota than anywhere else in the state of Florida! Read more
Current Condos For Sale in Downtown Sarasota FL.
Search By Price Range:
---
Quick Facts For Sarasota Downtown
Pros:

Gorgeous waterfront city
Civic and cultural center of Sarasota
Rated top 10 small city in the country

Considerations:

Real estate and condos are more expensive than surrounding area

Shopping:

Publix and Whole Foods located downtown
Downtown Saturday morning market takes over the streets from 7am-1pm
Plenty of boutique shopping too

Lifestyle:

Many award winning restaurants serving fine cuisine
Great walkability to everything downtown
Gorgeous waterfront and views along Sarasota Bay

Beach:

Lido Beach is 4.5 miles from downtown Sarasota
Siesta Key beach is 7 miles

Downtown Sarasota:

Art Galleries
Van Wezel Performance Arts Center
Multiple Performance Theaters
Additional Downtown Sarasota Condos Community Information
Main Street in Sarasota offers numerous specialty boutique shops, and is the host for several festivals annually. Residents also look forward to enjoying the Pineapple drop from Main street on New Years Eve. In the summer, be sure to catch the Sarasota boat races, and in the winter, downtown Sarasota hosts the boat parade of lights, an absolute must see!
Residents regularly enjoy the Saturday morning farmers market, where a downtown block is closed off each Saturday morning , making way for local farmers and vendors to set up their fresh food market! Take one short visit to the downtown area of Sarasota and you will see why the city of Sarasota is so immensely popular. Downtown Sarasota is usually the area which convinces visitors that Sarasota Florida is the right choice to call "home".
There are many condo choices for a new buyer considering Sarasota downtown condos. Many of the downtown condos have been around since the 1970's and early 1980's. These condos tend to have some of the best real estate locations in downtown. Many of these condo buildings have been renovated, and others still have that "Old Florida" vintage feel. (That is sales-speak meaning they may feel a bit "outdated" compared to new construction options). Therefore, one of the first questions we ask Sarasota downtown condo buyers is what type of building appearance, amenities, and price point do they wish to target. The newest buildings in downtown Sarasota include (but not limited to) the Vue, Jewel, The Mark, One 88, Aqua, and Sansara. The modern and contemporary Ritz Carlton Grande (the second Ritz Carlton Condo downtown) will begin construction later 2018.
Other downtown condo considerations include the height of the building our buyer clients prefer. The maximum height of a Sarasota downtown condo is 18 stories. Sarasota County disallows condos to be built higher than that. If you are interested in panoramic views at that higher level, we recommend the Vue, Jewel, 1350 Main, 100 Central, Marina Tower, Sarabande, Plaza at Five Points, Rivo At Ringling, and Tessera (to name just a few). Although not quite as tall, the 12 story Bay Plaza is a crowd favorite due to its second-to-none location which has a frontal view of Marina Jacks and the Bay, and a rear exposure that spills residents directly into the heart of the action in Sarasota.
If you are more interested in two story Downtown Sarasota condo options such as you would find in a townhome, we recommend checking out Burns Court Villas, Orange Club, and Cityscape as a few notable options. There are many more however.
How about historical condo buildings in downtown Sarasota? My favorite historical condo is 20 condo unit Frances Carlton, built in 1924! This building has recently gone through a refurbishment of the windows, and absolutely exudes a charm that is impossible to duplicate in new construction downtown condos. The fees can be a little higher in the building due to the older age, but the prices are very reasonable, and the location of Frances Carlton is fantastic!
Many of the Sarasota downtown condos offer gorgeous water view views of Sarasota Bay and Marina Jacks boat marina. Some of our favorite downtown waterfront condos are situation on Golden Gate Point, the small peninsula located just prior to crossing over the Ringling Causeway heading into Lido Key. Larger condo buildings such as La Bellasara and Grande Riviera are sure to excite the most distinguishing buyer looking for expansive water views with a Tuscan Mediterranean feel. Looking for a more intimate smaller building with contemporary design flare? Aqua and One 88 will be sure to please the buyers looking for a modern design waterfront condo in Sarasota.
Downtown Sarasota condo owners can often be seen biking or walking along the Ringling Causeway Bridge heading into the gorgeous shopping circle of St. Armands. There are numerous specialty shops and stores close by in downtown Sarasota as well, including Whole Foods market which is easily within walking distance of many of the downtown condos. If you are into music, be sure to visit the Sarasota Jazz Club, a local favorite! Of course, it goes without saying that Sarasota beautiful beaches of Lido Key and Siesta Key are always just a few miles away.
Whether you are looking for new construction condos, taller condos, small more intimate buildings, or condos with an active social calendar, there will be a perfect downtown Sarasota condo for you!
---
Downtown Sarasota Condominiums
---
Contact Us | Ask A Question